Sawgrass Ford Collision Center
ABOUT SAWGRASS FORD COLLISION CENTER
At Sawgrass Ford Collision Center we specialize in repairing and servicing Ford Motor Company vehicles. Still we're equally equipped to care for all makes and models, foreign or domestic. You'll be reassured to know that our dedicated estimators and technicians are ASE and I-CAR certified. Inside of our 30,000 square foot facility our technicians use state-of-the-art computerized equipment including body and frame alignment bench racks featuring computerized measuring software, and a factory approved computerized paint mixing system. Our collision center is an authorized repair center for all major insurance companies which in turn will cause you less stress and shorten the length of your repair. Given the opportunity you'll see "We surpass customer expectations"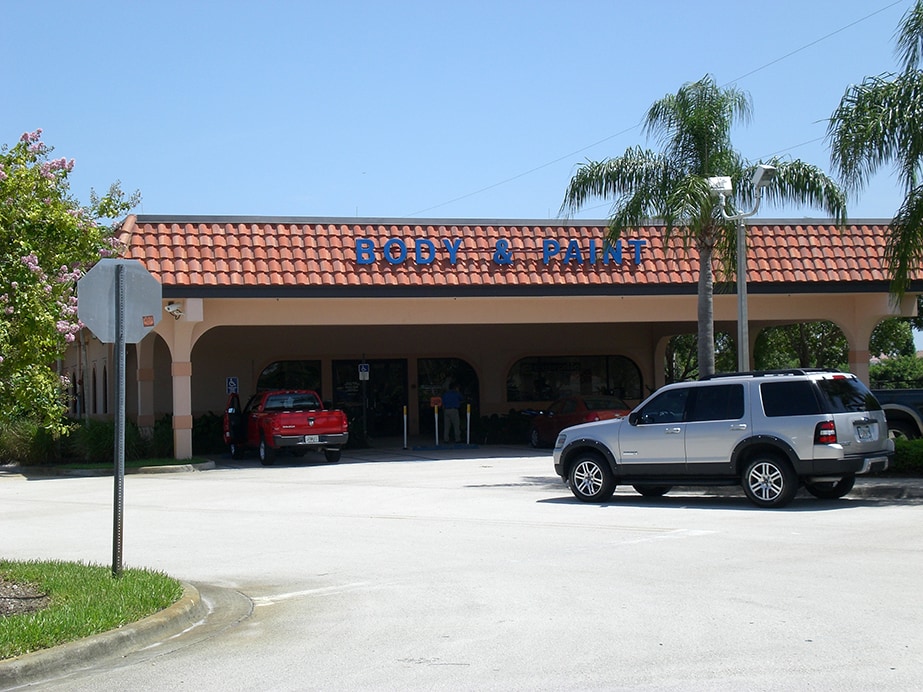 WHAT TO DO IF YOU'RE INVOLVED IN AN ACCIDENT
1. If there are injuries, call 911 immediately.
2. Obtain the insurance information of other vehicles.
3. Complete the police accident report
4. If your vehicle is safe to drive, take it to Sawgrass Ford
5. If your vehicle needs to be towed please contact our authorized towing service:
SUPERIOR TOWING
TOLL FREE - 954-424-8781
24 HOUR SERVICE

6. Instruct towing company to take your vehicle to Sawgrass Ford
---
---
COLLISION CENTER BUSINESS HOURS
M-F     8:00 am -7:00 pm
Saturdays 8:00 am -5:00 pm
Sunday - Closed
COLLISION CENTER PHONE NUMBERS
Office - 954.851.9100
Fax - 954.845.0164
AFTER HOURS DROP-OFF INSTRUCTIONS
Drive / Tow your vehicle to Sawgrass Ford Collision Center. Please leave keys only in drop-off box located at the collision center entrance (any paperwork please place on dashboard of vehicle).
---
---
FAQ's
Are you open on Saturday? 
Yes. Our Saturday hours are 8:00 AM to 5:00 PM
Will the parts be ordered before I drop off my vehicle?
Yes, we order your parts as soon as you give Sawgrass Ford Collision Center approval to work on your vehicle. This enables us to start working on your vehicle as soon as you bring it in. This also allows us to return your vehicle to you as quickly as possible.
What if my vehicle needs to be towed?
If your vehicle needs to be towed please contact our authorized towing service:
SUPERIOR TOWING
TOLL FREE - 954-424-8781

24 HOUR SERVICE
Is there a warranty on the repairs done to my vehicle?
Yes, Sawgrass Ford Collision Center guarantees all repairs done to your vehicle with a lifetime warranty on workmanship and refinishing (painting) as long as you own / lease the vehicle. A written warranty is given to you when you pick up your vehicle.
If my vehicles frame is damaged is my vehicle a total loss?
No, your vehicle is only a total loss if the damages exceed the value of the vehicle, which is determined by your insurance company. With vehicles changing most have what is called a unibody (where the frame and body are molded into one) structure. Our technicians, teamed with our state of the art equipment, can return your vehicle back within factory specifications. If the damages are to an extreme that we can't repair it, we simply replace that portion of the vehicle.
Can you match my vehicles paint color?
Yes, with our computerized factory approved mixing system we can precisely match your vehicles paint. Sawgrass Ford Collision paint technicians undergo constant training to ensure that our paint will match your vehicles.
Can I wash or wax my vehicle when I get it home?
Yes, we suggest that if you are going to wash your vehicle that you do so with a mild soap and a soft cloth or sponge. For the first 30 days we ask that you do not take your vehicle to a commercial car wash, due to the stiff brushes or super jets that can possibly scratch your finish. We also recommend that you do not wax your vehicle for the first 30 days to ensure that your car's paint has had sufficient time to cure. The first 30 days are the most critical for your cars finish. The care you give your vehicle, determines how your paint will look many years down the road.
Do I have to pay a deductible when I pick up my vehicle?
Yes, if you are required to pay a deductible, you will need to make that payable to Sawgrass Ford Collision Center at the time repairs are completed and you pick up your vehicle.
What types of payment do you accept?
We accept cash, check, and all major credit cards.
Can I get a ride home when I drop off my vehicle?
Yes, if you are within our 15 mile radius we will be more than happy to drop you off at your house or work when you leave your vehicle with us. And if you need to we can also come and pick you up when your vehicle's repairs are completed.
Do you have a loaner vehicle that I can use?
No, but we do have an "Enterprise Rent-A-Car" located inside the collision center that stocks a fleet of vehicles ranging from compact cars to large SUV's. For further information please contact "Enterprise Rent-A-Car" directly at 954-846-8585.